About Us
TopFlight Realty & Property Management is a Veteran owned company established in 2008. We pride ourselves on being leaders in our local real estate and the property management community. We have been active members of Clarksville Association of Realtors and National Association of Property Managers (NARPM) for the last 14 years. We have since became apart of National Association of Real Estate Brokers (NAREB).
Roni Brooks Property Manager, Owner
Roni Brooks is a Veteran who served in the United States Army for 21 years until retirement in 2007. She is a recipient of (2) Bronze Stars and other numerous medals. She has always been a people person and wanted to continue after retirement in a field that could help people. Seeing Military and Civilian personnel having to leave the area and unable to sell there home, she decided to primarily focus on property management. She then joined the National Association of Residential Property Management to gain experience and education. TopFlight Realty & Property Management is now one of the most well-known Real estate companies in the local area.
Samantha Hibbard Property Manager
Samantha is married and the mother of two beautiful children. Her son is steps away from being a local firefighter and her daughter is a technology guru. She joined the Real Estate industry and the TopFlight Team in 2013. Samantha joined National Association of Residential Property Management in 2019 and have held positions from communications chair, interim secretary and now she has been selected to be President for the upcoming year of 2023.
Natascha Wolff Inspection Coordinator
Natascha grew up in a very small town of Idar-Oberstein, Germany. She lived there most of her life, she is always striving for more and decided to move to the United States in 2012. Natascha knew only basic English and had to adapt fast to start her career. Time passed, her English skills have improved and she decided to move in 2015 to the beautiful town of Clarksville, Tennessee. Now successfully attending Grand Canyon University in Phoenix Arizona with a goal in mind, to gain as much knowledge as possible. From day one Clarksville felt like home and last year TopFlight gave Natascha the opportunity to start a new career in the Property Management industry as an Inspection Coordinator. In her free time she likes to travel, nature photography, and hiking. Natascha is a minimalist at heart and enjoys the small things in life.
Tony Perry Maintenance Technician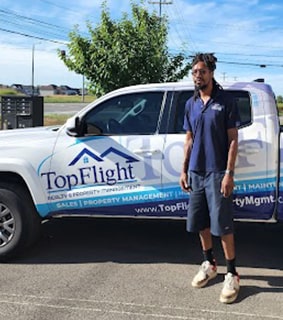 Tony is the handiest of handymen! Tony is a veteran of the Air Force which he served for 3.5 years. Tony was born and raised in Cleveland Ohio and moved to Clarksville, TN in 2012. Shortly after, he joined the Topflight team as the very first handyman in our newly developed maintenance department. Tony has many years of experience in maintenance with turn-key operations, deck replacing, flooring installation and many more skillsets in general maintenance operations. In addition to a very long list of repairs, he also performs annual maintenance evaluations (with photos), which our property owners have access to via their owner portal 24/7. TopFlight is the only company in the community that provides this service and our Owners love this service, it allows them the opportunity to perform preventative maintenance on their home and budget for items that are reaching its life expectancy.