Moving can be a very stressful time, whether you are moving because you have chosen to do so or because the owner has decided to not renew your lease agreement for another term. Whatever the case, the paperwork required when moving can be the last thing on your mind but can save you even more headaches down the road. Take the few minutes to review, complete and sign the paperwork to avoid any confusion on move-out expectations OR where TopFlight needs to send your security deposit refund check.
Move-Out Tips #103
Moving can be a very stressful time, but we are here to help, and we have listed some valuable tips for our tenants to get your move-out planned or organized without forgetting the essentials.
Before leaving, all tenants are required to provide written 30-60 notice of their intent to vacate. This gives our team enough time to start preparing for a new tenant. To determine the agreed-upon move-out date, consult the terms of your lease. (Please check your lease for the correct amount of time that is required).
Two weeks before Your move-out
For utility service cancellations, get in touch with all of your utility providers. Electricity/Water/Gas must be kept in your name 5 business days after your move out (this does not include Saturday or Sunday). Transferring cable, internet, and other relevant services should not be overlooked.
A change in address can be very hectic, but the post office can help with this online at https://www.usps.com/manage/forward.htm or at a local post office.

2 days before moving out:
To allow enough time for cleaning, remove all personal belongings at least two days before your lease expires.
Clean the home according to your move-out procedure's checklist, this is provided to you on the day you give notice. Following the list is crucial to get a full refund of your security deposit.
Keep in mind that the carpets will be professionally cleaned at the end of your lease. Do not attempt to do this on your own. However, you must vacuum to remove any/all debris, or you may be charged extra. If you have pets there are additional services that need to be completed, de-tick, de-flea & deodorizer.
Please do not dispose of any non-household furniture in the trashcan/dumpster. You must plan to dispose of these in an appropriate location.
To avoid these simple charges, make sure these items are replaced or cleaned well before you leave:
Lightbulbs - Any burned-out lightbulbs, including microwave, and refrigerator. If ceilings are too high to replace, leave new bulbs on the kitchen counter.
Missing or dead smoke detector batteries - if ceilings are too high to replace, leave new batteries on the kitchen counter.
Drip pans - They can be cleaned but if they are replaced, they have to be the same color and correct size.
Microwave/Range hood filter - should be cleaned and free of grease.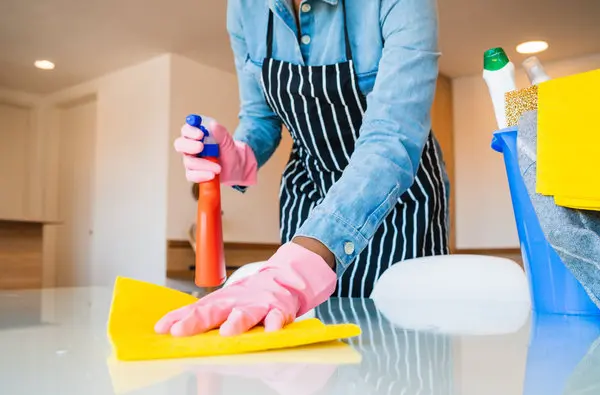 Move-out day
You can drop off your keys at any time either by the office or using our dropbox outside and please ensure to label the keys. Do not forget any extra keys that were given to you, and garage remotes if applicable.
Keep the thermostat at 70 degrees.
A TopFlight representative will access your file and compare all of the items you are returning to the original checkout sheet. Any inconsistencies may result in a charge. For example, if we only receive one key but you received two for the move-in, you will be charged according to the settlement charges guide.
The move-out inspection will be performed within 5 business days after your move-out. It is your responsibility to keep the property clean at all times. Please follow the cleaning checklist guidelines, as well as the attached settlement charges guide, which will be included with your move-out packet. Use the Settlement Charges Guide to determine the cost that the tenant will bear if the rental requires additional cleaning.
According to Tennessee/Kentucky law, any refundable and remaining deposit will be sent to the new forwarding address within 30 days of the lease's end. We will also send a letter detailing any charges deducted from the account.
If you have any concerns or questions, please feel free to contact our office.
Good luck with your move and if you have any questions, please let us know if you have any questions.